15.02.2020 – MEGASAUSE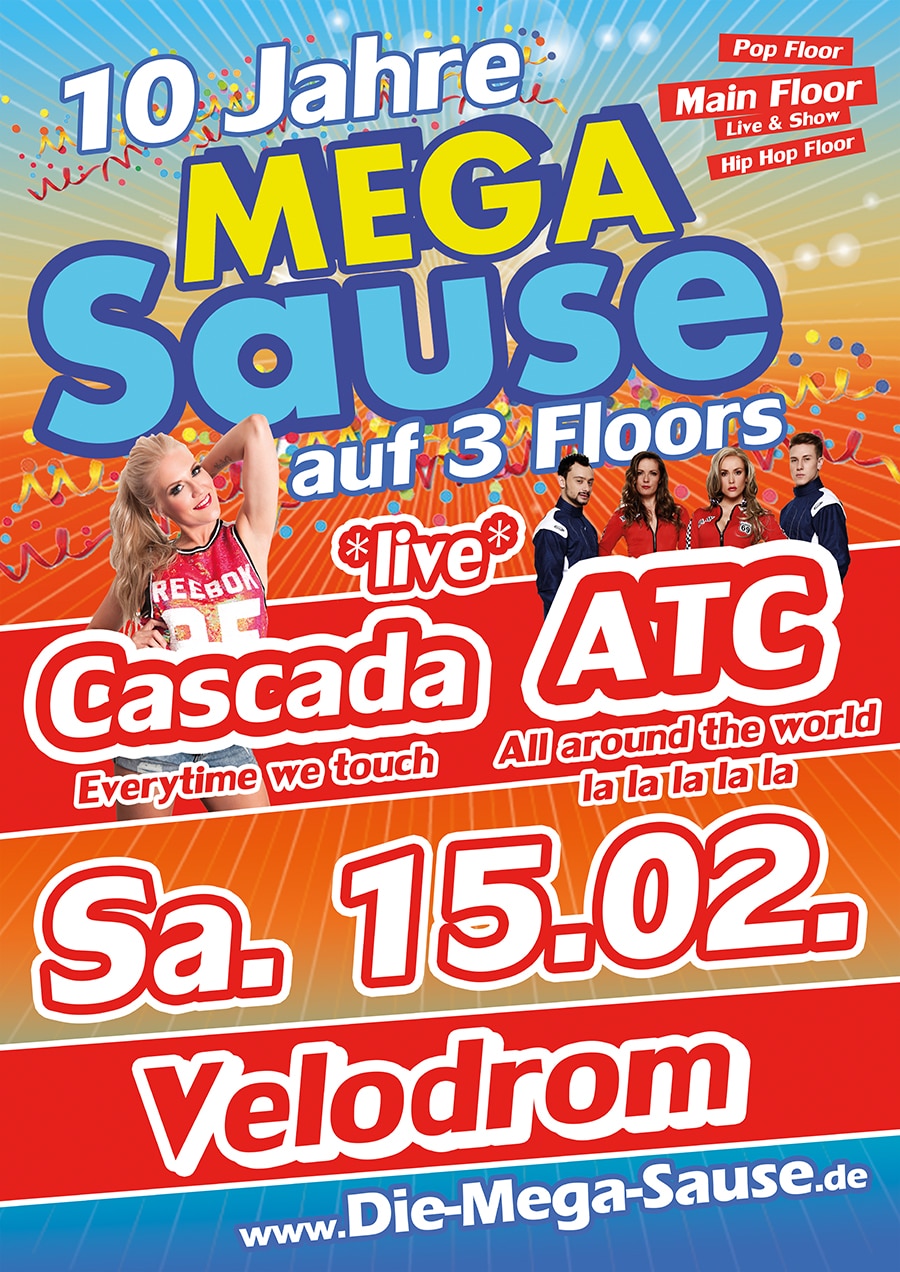 10 Years MEGA SAUSE on 3 Floors
with CASCADA and ATC *live*
Saturday, 15.02.2020 at Velodrom
>> Facebook Event: hier klicken
 >> Tickets: hier.
Am Samstag, dem 15. Februar 2020 geht es wieder rund mit den besten Hits unserer Jugend – diesmal zum 10-jährigen Jubiläum der MEGA SAUSE Unser gemeinsamer Wandertag führt uns in die schönste Konzert- & Eventlocation – dem VELODROM in Berlin …Auf der Bühne haben wir diesmal einen Lieblingskünstler aus der guten alten Zeit: CASCADA ("Everytime We Touch"), ATC ("Around The World – la la la la la") &  Mütze Katze DJ Team (miau rec.). Für viele Ohrwürmer ist natürlich wie immer gesorgt.
Wir feierten mit euch in den letzten 10 Jahren in den größten Locations Berlins bereits mit Stars wie Las Ketchup, Blümchen, Atomic Kitten, Caught In The Act, East 17, A Milli Vanilli Experience, Real McCoy, Maxx, Corona, SNAP!, Kate Ryan, La Bouche, Lasgo, Culture Beat, Captain Jack, Eiffel 65, Sqeezer, Oli.P, Lou Bega, Ace Of Base, Mr. President, Vengaboys, Dr. Alban, Loona, Rednex, 2 Unlimited, Haddaway, DJ Quicksilver, Dune, Benjamin Boyce (Caught in the Act), E-Rotic, Whigfield, Mark'Oh und auch Aquagen.