Terri B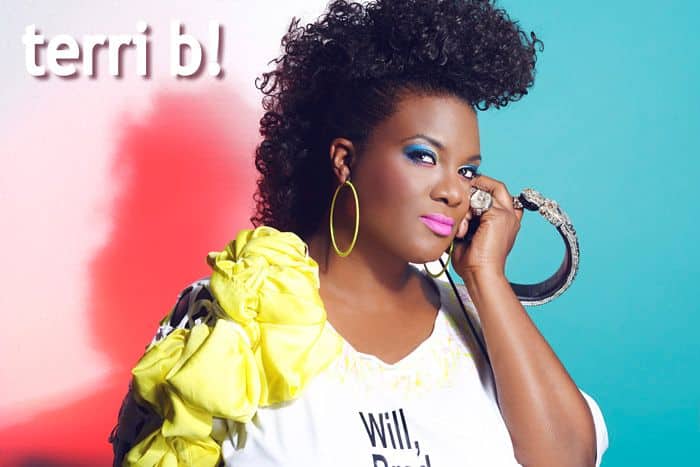 TERRI B!
Original voice 2 EIvissa (oh la la la)
THE SHOW
Having shared stages with Tiesto, David Guetta, and DJ Antoine, Fun Factory, Culturebeat,  Technotronic and more, Terri is a one woman powerhouse, with a 90s show including her massive tunes, Oh La La La, Get Down, Keep the fire burning, Theres nothing i won't do, Move your body and covers of massive remixed bangers like Sweet Dreams, show me love, I will Survive, Pump tip the jam, Rhythm is dancer,  Free and other 90s hits are also packed in to blow the roof off.   She is one of the few well trained in both younger and more mature audiences and knows how to make you jump.  Set can include saxophonist partner Toddi Reed and of course backing singer Sibel to make sure they keep it all the way live.  Every hand will be in the air!
TERRI B!
Terri started her career with a #1 song in both Spain and Italian top 100 with the infectious Oh La La LA as founding member of the band  2 Eivissa.  The overactive powerhouse vocalist went on to perform top 100 hits for Future Breeze (Keep the fire burning), Special D (There's Nothing I Won't do),  Avantgarde (Get Down) and a massive catalogue that has her still maintaining over 200,000 monthly listeners on Spotify.  Accomplished chart topping Dance Vocalist/MC/DJ, Songwriter and remixer, is has recorded multiple hit club records with solid names like Laidback Luke, Cazzette, Roger Sanchez, Ralphi Rosario, ATB, Bob Sinclar, DJ Antoine, MOGUAI and many others. Her vocals have landed on the remix boards of Avicii not once but twice and she collaborated with a who's who in electronic music.  Terri was the first major remix for Avicii, when he was given the chance to remix Bang that Box for her collaboration with Roger Sanchez and soon after became a household name.  In 2022 she has reached the Billboard top 30 Adult Rnb Airplay charts, and other career highlights include three #1  singles in the US Billboard Club Songs Charts, four #1 UK Soul Chart, four #1 Indie Soul Charts entries and a Indie Soul Grammy in 2022 for Best Female vocalist with her soul Project The Terri Green Project.   Dance songs Releases on all the top dance labels including, Ultra, Universal, Sony, Ministry of Sound, Kontor, Defected, Joia/Nero, Z Records, Nervous, Armada, Positiva, Sony, Carrillo and more have led her to a long and relevant career in dance music.  Her songwriting talents for multi platinum Danish star Medina, Germanys Sarah Connor, ATB, Roger Sanchez, Laidback Luke and more global artist have kept her relevant in an ever changing dance scene.  Touring the biggest venues and festivals in the world was a dream come true.