History & References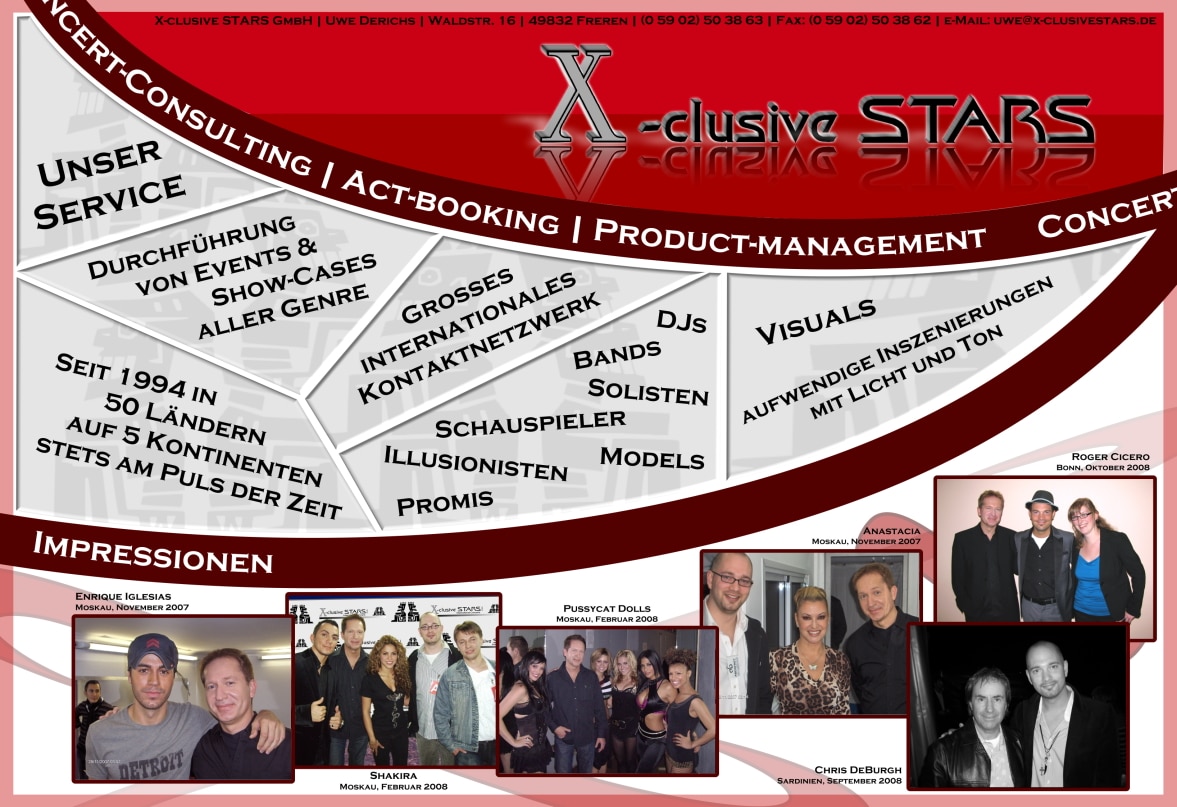 The history of the company goes back to 1993.
The work in the music bizz started with one of the most legendary European techno labels, at that time under the name LE PETIT PRINCE, later part of the music production company ALPHABET CITY GmbH in Mönchengladbach. From 1993 to 1995 a press office was established there for all artists of the affiliated labels. In addition, they were responsible for the license bills that were still carried out manually at the time. The first booking agency in Mönchengladbach was launched in 1995. The first goal was to represent German DJs for national and international events.
Due to the rapid increase in orders, staffing was required after a short time. The artist base developed in the same way: in 1996 the DJ pool was expanded to include artists such as Blank & Jones, Ferry Corsten and Cosmic Gate.
In 1998/1999 the order volume had risen so much that Sun & Stars was founded in parallel with Messalina Derichs as managing director in Brüggen (Lower Rhine). Top-class DJs like Kai Tracid and artists of his label Tracid Traxx were among the agency's potential. Gradually the causally technoid structure was replaced by increasingly commercial acts of the trance and dance scene.
The first international bookings were not long in coming, cooperation partners were found to be consistently active abroad. The companies are now active in more than 30 countries and on all continents.
At the beginning of 2004, after various discussions, the fields of activity in the areas of rock / pop and black music had to be expanded.
Since then, X-clusive STARS has supported bands with different stylistic facets. Contacts are made with labels and majors, bands are presented at various music fairs, among others. at the YOU fairs in Berlin and Essen. The first concerts are held with rock bands.
Furthermore, conventional events in clubs and discos, label parties, complete label tours in cooperation with various record companies, indoor events, radio and TV shows, promotion tours are realized. The established customer base shines less through quantity than through quality; long-term partnerships form a solid framework.
In 2004 the company moved to Lower Saxony in order to be able to continue its work in an even more structured manner in adapted rooms.
On January 1st, 2006 the company was transformed into a GmbH, the X-inclusive STARS GmbH was founded.
The first concert productions then began in summer 2006. The company was responsible for the consulting and co-production of two concerts with RONDÒ VENEZIANO in Stuttgart and Bayreuth.
In September 2006 a fantastic live concert with SCHILLER in Dubai / The Emirates could be realized. Here X-clusive STARS was responsible as co-producer and administration office. This was followed by private events with Enrique Iglesias and Anastacia in 2007. The corporate and private business was expanded with a focus on Russia.
In 2008 various events were added in Moscow, St. Petersburg but also in Croatia. Above all, a private event with SHAKIRA in Moscow on 02/01/08 should certainly be mentioned, to which the PUSSYCAT DOLLS were also guests. This was followed by shows with CHRIS DE BURGH in Sardinia and in the rock segment INFLAMES & SLAYER. A great concert with ROGER CICERO & Bigband in Bonn in October (MARITIM) is certainly worth mentioning.
2009: Organization of a large rock-pop concert in Aach on Lake Constance in July. In a project management function, our company organizes an open air on a fantastic, mostly natural site. with the artists REAMONN, SUNRISE AVENUE and MILOW, REVOLVERHELD and others.
Part 2 of the mission followed a few days later on the same site as a big hit event moderated by pop pope UWE HÜBNER. Guest: JÜRGEN DREWS; MICHAEL WENDLER; PATRICK LINDNER; IREEN SHEER; MICHAEL HOLM; BERND CLÜVER and other acts.
Of course, friends of electronic dance music did not miss out in 2009 either. X-clusive STARS was responsible for the artistic design of PIONEER ALPHA, which celebrated its 25th edition in the Schwerin congress halls. The shortly following 1st edition of the WINTERSESSION 2009 in Nuremberg was also filled with top-class DJs (ATB, FERRY CORSTEN, FELIX KRÖCHER) by X-clusive STARS.
Last but not least, the registration with FACEBOOK took place in 2009.
2010: The discovery of the now world-famous entertainer and DJ Christian Horsters, known as the DJ DER GUTEN LAUNE, is surely one of the striking events of the year. All major TV stations in Germany and abroad brought the good mood man in front of the camera. Whether GÜNTER JAUCH or JOHANNES B. KERNER, the MDR. NDR, PRO 7, SWR, …, all reported on the YOU TUBE miracle. To date (May 2012), there are more than 13 million hits on the numerous streams at YOU TUBE. The highlight in October 2010 LIVE on Belgian TV was a joint appearance with superstar DAVID GUETTA and CHRIS WILLIS.
In 2010, even after a long period of preparation, the first, completely independent OPEN AIR EL AQUARENA was carried out in southern Emsland. An idyllic outdoor swimming pool facility was converted into an event arena. Well-known acts, such as the most successful German dance act MICHAEL MIND PROJECT, AXEL FISCHER, followed in 2011 by the two-time Echo award winner ALEX CHRISTENSEN; MARKUS (the STAR of the NDW) and other acts.
In 2011, the X-clusive STARS, in addition to continuing the conventional DJ and live act bookings, began to lay the foundations for a new business area.
The company plans and accompanies motorsport events for the public, the so-called city karting, and on the other hand, company inquiries will also be served in the future.
In 2013 and 2015, the X-clusive STARS successfully organized and conducted the Emsland Kart GP. Almost 15,000 spectators could be counted at the events in Freren.
Since 2014, the X-clusive STARS has been responsible for the representative offices of the 90s music acts at the Brandenburg Gate as part of the large ZDF New Year's party. Many top acts of that time like
LayZee fka. Mr. President, Caught in the Act, Captain Hollywood Project, Vengaboys, Fun Factory, A Milli Vanilli Experience and others were sometimes in Berlin. This cooperation will certainly continue.
Since 2016, we have been able to primarily engage German-speaking artists for various concerts in southern Germany. These included MAX GIESINGER, JOHANNES OERDING, CHRISTINA STÜRMER and for 2020 NICO SANTOS. A great concert was booked for that for MILOW in 2019 in Bopfingen.
X-clusive STARS is also aiming for interesting bookings in Germany and abroad for the coming years, both in the public, but also private and corporate segments.